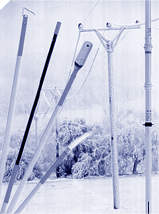 This kit for the maintenance of overhead power lines was developed especially for a variety of types of work related to operation and maintenance of lines. Tested for live working according to the EN (IEC) European standards.







COMPOSITE POLE



The pole is made of an advanced, high quality, composite of glass fibre and epoxy matrix.

The composite material of the pole has excellent insulating properties (13 kV/mm).



The pole features good springing and shock damping due to its conical shape, variable thickness of the wall as well as elastic properties of the composite. This consequently ensures reliable contact of the head with the contact line.



The low pole weight causes smaller centrifugal forces lowering base wear considerably and minimizing the risk of de-wiring.



The high mechanical strength and impact resistance contributes to the reliability of the whole current collector. The pole sustains dewirings without damaging.



The composite material is dyed throughout - standard colour is yellow. It is not necessary to renew its glossy surface by painting. Cleaning can be done simply by washing (e.g. with detergent, spirit etc.).



The shape is thermally stable from ­50°C to +90°C.



The bottom end of the pole consists of a steel tube that is to be inserted into the pole carrier sleeve to make a reliable and quickly removable joint.



The top end of the pole consists of a stainless steel tube that is to be inserted into the current collector head.



The power cable is fed from the head to the collector base thru the center of the pole.



These composite poles are interchangeable with the heavy steel poles (weighting as much as 15 kg) of the old current collectors.




Printable version >>