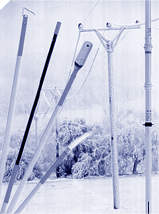 This kit for the maintenance of overhead power lines was developed especially for a variety of types of work related to operation and maintenance of lines. Tested for live working according to the EN (IEC) European standards.








POWERMAN 98

super light
The Kit for De-Icing of Overhead Lines

The kit POWERMAN 98super light
has been developed especially for mechanical de-icing of conductors and cables at: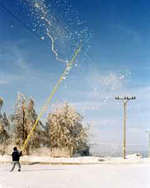 low, medium and high voltage overhead distribution and transmission lines



overhead telecommunication lines



contact systems of railways
The newly designed tools that the kit comprises enable de-icing by time-proven methods such as shaking down, scraping or knocking off an ice accretion.


The kit can be supplemented with a variety of tools that enable using it also for:

lifting and handling conductors and cables in high places



pruning trees in a power distribution network safety zone, or in parks, orchards, etc.



carrying out rescue work during floods, fires, etc.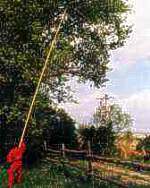 General description

POWERMAN is a set of poles - slender thin-walled tubes of a conical or cylindrical shape. By assembling two to five parts you get a compact pole of the required length, the head of which can be fitted with various working tools. Such a pole then enables all kinds of work in heights between 2 to 14 metres above the ground.
POWERMAN is exceptionally light-weight, which enables trouble-free, quick and efficient work whilst the physical input is relatively low. The kit can be operated by one man. However, the optimum is two to take turns or to carry out more complicated tasks in difficult conditions and in heights of 10 metres and more.



Printable version >>