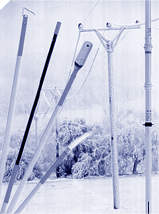 This kit for the maintenance of overhead power lines was developed especially for a variety of types of work related to operation and maintenance of lines. Tested for live working according to the EN (IEC) European standards.







CURRENT COLLECTOR HEAD



The current collector head, attached to the top of the pole by means of its sleeve, consists of the following components:

main body, made of aluminum alloy, integrates a sleeve, a bore for the vertical pivot bushing, a bolt to connect litz wire with the power cable and a mounted protecting shield,



vertical and horizontal stainless steel pivots including their self-lubricating bushings,



carbon holder, made of a special bronze alloy that due to its good sliding properties reduces contact line wear,



carbon insert of length 102 mm, slightly conical in its longitudinal as well as its transverse sections, which enables exchanging without using any tools,



copper litz wire bridges over the pivots in order to avoid their extensive electric corrosion,



arcing horn which prevents the carbon holder from burnloss if the head rebounds or ice accretions accumulates on the lines,



grease nipple to lubricate the vertical pivot.

Printable version >>