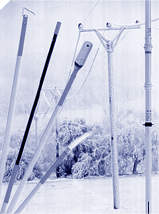 This kit for the maintenance of overhead power lines was developed especially for a variety of types of work related to operation and maintenance of lines. Tested for live working according to the EN (IEC) European standards.




SECTIONAL POLES
All tubular sections of a pole are made of a high-quality composite of epoxy matrix and woven glass fibres, mass-dyed yellow, sunfast.



Optimum composition of fibres for high strength and stiffness; but also for sufficient radial strength.



Excellent dielectric properties and a smooth glossy hydrophobic surface for easy maintenance.



Insulating section foam filled for improved safety, no water precipitation inside the tube. Special filling technology applied for better foam-to-wall adhesion, mechanically tested.



Insulating distance clearly defined by a hand guard and a red limit mark.



The rain rings provide additional protection when precipitation occurs, no water forming continuous paths along the length of the pole. Tested for leakage current under rain conditions.



Adjustable: choose the length you need and assemble only the required number of sections, save the weight! All interconnections are compatible.



Easy and quick assembling or disassembling, no tools required. Reliable double spring pins large enough to work even with gloves on.



Simple reinforced head for fast and sure fitting of any tool.



Marks on each section to help align a tool properly, especially when there is bad visibility.



Matter of course: routine tests per IEC standards performed on each Insulating Section.
Sectional Poles
no.
type
working length
[m]
diameters
[mm]
total weight
[kg]
T2.5
Top Section
2.5
51/32
0.8
C1.5
Center or Bottom Section
with Insert
1.5
51
0.8
C2.0
2.0
51
1.0
C2.5
2.5
51
1.2
I 36kV
Insulating Section 36kV
2.5
51
2.0
I 72.5kV
Insulating Section 72.5kV
2.5
51
2.2

Printable version >>