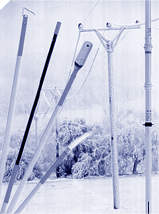 This kit for the maintenance of overhead power lines was developed especially for a variety of types of work related to operation and maintenance of lines. Tested for live working according to the EN (IEC) European standards.







WHAT´S NEW & INNOVATED



New utilization of the Powerman Hot kits !!!

New tool - Switch Head - was developed to enable use of the Powerman insulating pole for the opening and closing of disconnecting switches.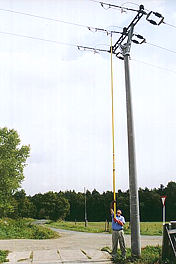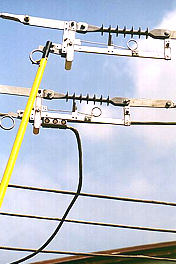 Sectional Poles

T2.5HD - Top Section HD (heavy duty) is made of specially reinforced composite in order to withstand along its full length the impacts when knocking down the ice accretion. It is compatible with standard Top Section T2.5. Length 2.5m, weight 1.3kg, color black.


Tools



2A - Switch Head - to open and close disconnecting switches. It is made of insulating composite material. The switch bolt of different dimensions available upon request.

2B - Adapter M12/30mm - Adapter with thread M12, length 30mm, can be used for attaching of e.g. voltage detector, head of other manufacturer etc.





5B - Shears and Saw - The shears are equipped with a control cord and a lever mechanism that increases the cutting action 14-times and they make pruning of the branches up to 25 mm in diameter significantly easier. The saw can be used for thicker branches without changing the tool. When working with the shears near live lines, it is necessary to use Insulating Tube IT 36kV - 5B1!

5B1 - Insulating Tube IT 36kV - pull line for controlling the shears that comprises of rope, insulating part and handle. Tested according to the standards IEC (EN).




ACCESSORIES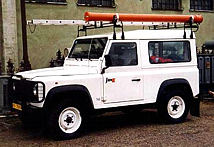 9A3 - Container for Pole Sections for easy and safe transport and storage of the tubular sections on a car roof rack (see figure on the right). Diameter 160 mm / length 2,8m / accomodates up to 5 pole sections including Insulating Section. Container set-up includes the mounting brackets for attaching to the roof rack.



Printable version >>